Fact Checked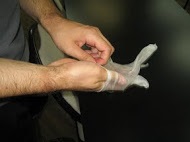 If you are a pet-lover, you know just how important it is to have the correct supplies in your pet's first aid kit. This is because it allows you to be ready in the event that there is an emergency. Since this kit is used for emergencies, it becomes important to have such a kit in your house as well as in your car to cater for those times when you will be out of town and would still like to travel with your pet. A number of people find it a little difficult to get the ideal pet kit, but there are ways to improvise this and make it work for you. How then do you get the correct supplies for such a kit?
What should I include?
The first way to get this done is to get a regular human first aid kit then simply match up the supplies with what is specific for a pet's first aid kit. Alternatively, why not simply get the equivalent of the supplies of a human first aid kit, and purchase them from the local pet store? This should work just as well.
Find out what pain killers are ideal for your pet, whether it is a canine, a cat, a squirrel or a hamster. To make this easy for you, below are some of the supplies that must always be available in a pet's first aid kit. They include:
[youtube url="https://www.youtube.com/watch?v=9Byb1anUUo8″ width="200″ height="200″]
A book that gives details for different pet first aid procedures.
Essential phone numbers that include: the phone number of your vet, the closest vet clinic where you would like to take your pet in case of an emergency, the hotline number of the poison control centre as well as the person to contact in case the pet gets lost (this is assuming the pet has been correctly tagged.
Relevant paperwork for your pet, preferably stored in a tightly sealed water-proof bag. The pet's first aid kit must also contain evidence that the animal has had rabies vaccination. This is in addition to the wide range of vital medical records. Do not forget to include a recent photograph of your pet.
Include a nylon leash in your kit for those days when you need to keep the pet under control.
 You also need to have a self-cling bandage. The difference between this type of bandage and the usual ones found in human first aid kits is in the fact the self cling bandage sticks to itself but not to itself, making it ideal for inclusion into the pet's first aid kit.
Additional items
Get pieces of cloth that will protect you from the pet's biting. It is extremely important that these pieces are not used when the pet is choking, coughing or experiencing labored breathing as this only complicates the emergency situation.
Other basic supplies include antiseptic lotion, disposable gloves, gauze rolls, ice packs, adhesive tape as well as an emergency blanket.
FACT CHECK
https://www.bluecross.org.uk/pet-advice/basic-first-aid-dogs
http://www.humanesociety.org/animals/resources/tips/pet_first_aid_kit.html
https://www.petmd.com/dog/slideshows/emergency/pet-first-aid-kit