CPR training is no joke. It takes effort and dedication to enter cardiopulmonary resuscitation and come out a certified CPR rescuer. Other providers in the US are as affordable as us but do not offer the same quality of training. All of our American CPR Courses in our six locations all over the country are taught and overlooked by certified CPR rescuers. Trainees get the best possible lessons from our instructors.
Certification and Renewal
Are you in need of CPR certification? All of the programs we offer training are certification courses. Students are required to have complete attendance and a passing grade on the post-test – the certification exam – before we award them with a CPR training credential. Certificates that you receive from us are valid for 24 months before they have to be renewed.
If you want to renew your certificate, sign up for re-certification before the certificate expires. None of our providers will accept an expired certificate for renewal. Re-certification classes are available for most of our programs.
American CPR Courses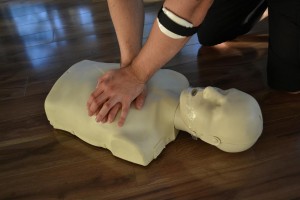 You will see EMTs (emergency medical technicians) respond to an emergency when you call 911. They are trained to give CPR and first aid to victims in a variety of situations. A CPR and first aid rescuer is the same; they are taught the basics of dealing with a potential health threat – from cuts and scrapes to burn injuries.
CPR is the primary lesson we teach our rescuers. Cardiopulmonary resuscitation is a set of skills that allows a person to help restore circulation in the body in the case of cardiac arrest. Arrest can happen due to a number of reasons, from severe allergies to pre-existing cardiac problems. Chest compressions and rescue breaths keep oxygenated blood pumping through the body while the rescuer attempts to restart the heart.
Training Courses
We offer a total of five training courses and three re-certification classes to our trainees. Three of the courses are under Basic Life Support and the last two are under Advanced Life Support. BLS programs teach the basics when it comes to CPR and first aid; the programs are short and focused more on skill building regarding CPR. Rescuers trained in BLS are equipped to stabilize a victim before the arrival of medical help.
Basic CPR and AED (Heartsaver CPR) – 4 hours, general public; one-person CPR rescue, AED, first aid
Basic CPR and AED C (Heartsaver CPR C) – 4.5 hours, healthcare providers (HCPs); one-person CPR rescue, AED, first aid
Basic Life Support for HCPs – 4.5 hours, HCPs; one and two-person CPR rescue, 2010 BLS Guidelines, first aid, AED
ALS programs are run on the same basics of BLS training but with the use of medical interventions. The basics are still introduced in an ALS program but not intensively, which is why we require students to take or have a valid training certificate in BLS for HCPs before applying to ALS training. We teach students about medication administration, diagnostics, and support devices used during a rescue in an organized and controlled environment.
Advanced Cardiac Life Support – 16 hours; adult victims
Pediatric Advanced Life Support – 14 hours; pediatric victims