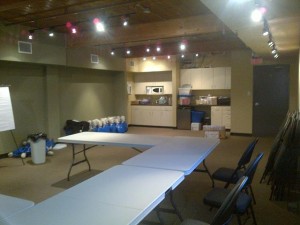 Vancouver First Aid has become the leading training provider of first aid, CPR, food safe and safety and emergency first aid training in Surrey. It offers trainees a wide range of training courses and classes at various schedules throughout the week. Private classes, certifications, on-line safety courses and renewals are also offered from home or the Surrey training centres located in Whalley and Newton. Both training locations in Surrey provide plenty of nearby amenities, free parking and great access to public transit. It's easily accessible and is dedicated to providing you with the best learning experience possible with fun, educational and interactive classes. This provider offers two types of emergency first aid training in Surrey. Occupational First Aid level 1 is available in both Surrey training centres. This one day course meets WorkSafe BC requirements and provides certification that is valid for 3 years. Participants may also register for the basic emergency first aid training course. Both courses teach participants basic rescues skills, CPR and the usage of AED's, however, the WEFA course provides certification that is compliant with WorkSafe BC regulations. To register for a workplace emergency first aid course in Surrey click the link or use the contact information provided below.
How To Register for a Course of Emergency First Aid Training in Surrey?
To register for either OFA level 1 or basic emergency first aid in Surrey, B.C. use the following contact information:
For more information about the Newton Training Location Check out the Map below.
Location Information:
Free Parking
Access to Public Transit
Restaurants
Business Centre of Newton
Reasons to enrol at Vancouver First Aid
The lowest costs are offered for all certification and renewal programs. Other training service providers can't compete.
Rates are inclusive of taxes, certificates, WorkSafe BC registration fees, training manuals, and use of training equipment.
Full refunds are given to trainees with 72-hour notices prior to dropping out of a training course.
Scheduling is very flexible. Classes are offered throughout the week, in Surrey including evenings and weekends for popular classes.
Once a trainee completes a course, he or she is awarded a workplace approved training certificate, valid for three years all throughout Canada.
This Surrey provider has numerous training facilities throughout the Lower Mainland. These locations are easily accessible by both public and private transportation.
Classrooms are well-maintained and equipped with the latest technology in first aid, CPR, and AED training for the best learning experience possible.
Refresher courses are offered twice a week for renewal of expiring certification for participants that meet the required prerequisites.
Private classes are usually offered to big groups of trainees such as companies or trainees with scheduling problems and cannot enrol in any of the regular schedules.
Courses in Surrey are never cancelled.
Offered Classes for Emergency First Aid Training in Surrey
Several courses are available in the Surrey training facility. The following is a short list of some of the courses you may attend at the training facilities:
First Responder Training
Occupational First Aid level 1
Emergency First Aid with CPR level "A", "C" or "HCP" and AED
Standard First Aid with CPR level "A", "C" or "HCP" and AED
Emergency Childcare First Aid with CPR level "B" And AED
CPR level "A" and AED
CPR level "C" and AED
CPR level "HCP" and AED
Basic Life Support (BLS)
Advanced Cardiac Life Support (ACLS)
Oxygen Adminstration
WHMIS (On-line)
TDG (On-line)
Fire Safety
Food Safe Level 1
Food Safe level 2
Re-certifications and private courses are also available.  For a full list of available classes use the contact information above or visit the website.
What is Covered in this Course?
First aid classes cover a comprehensive list of first aid skills for a variety of emergency situations. Trainees will learn how to manage burn, bleeding, and fall injuries among others. A large portion of the total class hours is spent honing these skills and ability to recognize and react to emergency situations.
Did You Know?
First aid for frostbite
Note: Call your local emergency number or bring the victim to the hospital. While waiting for medical attention:
Keep the victim warm.
Remove any wet clothing.
Do not walk on or use affected area, typically the extremities.
Do not rewarm by rubbing, massaging, or applying direct heat to the affected area; this can cause further damage to the tissues.
Cover frostbitten area loosely with sterile gauze or a clean piece of cloth.
Separate fingers or toes with gauze or clean cotton balls
Enrol for standard, OFA level 1 or emergency first aid training in Surrey, B.C today!