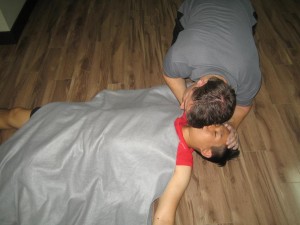 A variety of first aid, cardiopulmonary resuscitation (CPR), and automated external defibrillation (AED) training programs are available at Ottawa First Aid. All classes are offered at the lowest rates in Ontario. A variety of safety, food safe, first aid, CPR and AED courses are available for enrolment, as well as a number of private classes. Convenient training locations, low prices and great teachers have made Ottawa First Aid the best in St Mark James certification for the past six years. One of the most popular courses available is emergency first aid. This one day course include CPR training in either level "A", "C" or "HCP" and comes standard with AED training. Participants that successfully complete this training receive a certificate that is valid for 3 years. To register for an emergency first aid course in Ottawa, Ontario use the contact information posted below.
Registration at Ottawa First Aid
Trainees can enrol via e-mail or telephone call. Walk-ins during business hours in any of the training centers in Ottawa are highly encouraged by the Ottawa First Aid staff.
A complete list of classes, schedules, rates, and an on-line application form can be found on the Ottawa First Aid website.
Use the following details to contact this provider:
Rates at Ottawa First Aid
All courses are offered at the lowest rates in Ontario. Fees include everything – taxes, certificates, and St Mark James registration fees. Use of training manuals and equipment come at no additional costs so trainees don't have worry about extra expenses during training.
If a trainee drops out of a course, he or she is entitled to a full refund, provided a 72-hour notice was given beforehand.
Classes
Full courses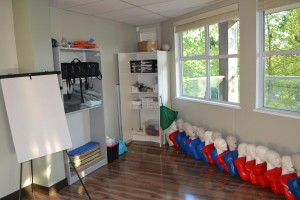 Full courses are offered in three levels – all inclusive of AED and first aid training. Automated external defibrillators are used to supply electrical shock for the regulation of heart rate and rhythm.
First aid classes are focused on skill training for a variety of emergency situations such as falls, bleeding, broken bones, and many more. Trainees are sure to receive the best training from St Mark James certified instructors.
Extra classes
Stand-alone classes are offered to trainees who want to take either CPR/AED or first aid and not both. Private classes are usually taken by big groups of trainees, companies, or trainees with scheduling problems.
Certification
Once a trainee successfully completes a course, he or she is awarded a St Mark James training certificate for first aid, CPR, and AED, valid for three years throughout Canada for whatever purpose it may serve the trainee. Renewal (re-certification) of expiring standard first aid certificates are done through refresher courses proudly offered with this St Mark James training provider.
Did You Know?
First aid for third-degree burns
Third-degree burns are the worst kind of burns. They extend through both epidermis, dermis, and subcutaneous tissue, often exposing muscle and bone.
DO NOT put anything on the burn – water, ointment, compresses, etc.
Cover burn with a sterile piece of gauze LOOSELY. If the area is big, use a clean piece of cloth that won't leave fibers in the burn.
Assist victim to lie down, with feet elevated above the heart.
Cover victim with a blanket or additional clothing.
If the victim has a facial or neck burn, assist him or her to sit up.
Monitor pulse and respiration until medical help arrives or bring victim to the hospital.
Sign-up for certification programs with Ottawa First Aid to receive the very best quality lessons at the cheapest costs. Enrol today!