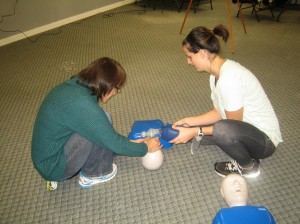 Learn about CPR, choking rescues, AED usage and about respiratory and circulatory emergencies by enrolling in St Mark James emergency first aid courses in Toronto, Ontario with Toronto First Aid. This course is a basic training program that many individuals are required to have for workplace or academic purposes. This course is typically offered over the course of one day and requires approximately 8 hours to complete. This provider also offers a large number of other first aid courses at convenient locations throughout the area – and at the lowest prices. Other classes include standard and childcare first aid. Training certificates awarded to trainees are sure to meet school and work requirements. Private classes and re-certification courses are available for participants that need to renew / re-certify expiring awards. To register for a St Mark James emergency first aid course in Toronto with this provider use the  contact information provided below.
How To Register for Emergency First Aid in Toronto?
To register for an emergency, childcare or standard first aid and / or CPR course in Toronto use the following registration details.
Why chose Toronto First Aid?
Lowest Course Prices
All courses are offered at the cheapest rates in the area. Rates are inclusive of taxes, certificates, St Mark James registration fees, and use of training manuals and equipment. Trainees can rest assured that there will be no additional expenses. Other training service providers can't beat the enrolment fees at Toronto First Aid.
Full refunds are given to trainees who provide 72-hour notices before dropping out of an enrolled course.
High-quality training programs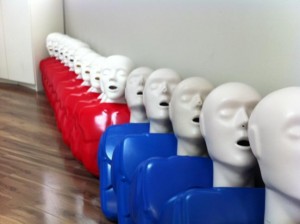 St Mark James certified instructors teach all classes at Toronto First Aid. The classrooms are equipped with the latest training equipment for first aid, CPR, and AED. Trainees have a great learning environment in all the training centers.
Trainees can choose from three levels of CPR and AED training (A, C, and HCP). A and C are catered towards lay rescuers while HCP is catered towards health providers and professionals.
Stand-alone CPR/AED courses are also available to trainees who don't want to enrol in a course that provide first aid certification. First aid classes focus largely on skill development and recognizing and reaction to emergency situations.
Big or small groups of trainees can opt for a private class.
St Mark James Certification
Once trainees complete a course, they are awarded a St Mark James training certificate, valid for three years throughout Canada. Refresher courses are available twice a week for participants that meet the required St Mark James prerequisites.
Get started on your training now with the lesson below.
Did You Know?
Taking a child's temperature
Rectal – for children 5 months and younger; fever is temperature higher than 100.4 F
Oral – for children 4 – 6 months old; fever is temperature higher than 100.4 F
Ear/Aural – for children 6 months and older; rectal temperature is used after to make sure
Armpit/Axillary – all ages; fever is temperature higher than 100.4 F
Learn more about fever's, seizures and circulatory emergencies by enrolling in first aid and safety training in Toronto, Ontario.