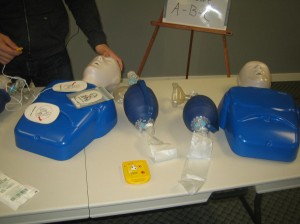 Learn basic and advanced rescue skills, strengthen your resume and boost your confidence by taking a course with Edmonton First Aid. This provider offers a variety of courses including food safety, standard first aid, emergency and childcare first aid. This provider is the most popular and largest course provider of emergency first aid training in Edmonton. Participants that register for this one-day, 8 hour course, will also receive CPR and automated external defibrillator (AED) training.  Another popular course is standard first aid which meets Alberta OH&S requirements for first aid training. To register for a emergency first aid course, or any other course, in Edmonton use the link above or the contact information posted below to contact this provider.
How To Register / Contact Edmonton First Aid?
To contact this Alberta OH&S approved training provider please use the following details:
Website Address: http://firstaidcpredmonton.ca/
Telephone Number: 780-809-0829
Email Address: info@firstaidcpredmonton.ca
First Training Office: Suite 200 7915 – 104 Street, Edmonton
Second Training office: 11823 114 Ave NW, Edmonton, AB
First Training Office
For more information about this location check out the map below:
This training provider has its main training location located in Old Strathcona. It is just south of Whyte Ave and east of the University of Alberta. It serves Garneau, Strathcona, King Edward Park, Bonnie Doon and South commons. This location offers free parking and great access to public transit. It is located walking distance from the University and from the Hospital. Vibrant Whyte Avenue is just one block to the north. Participants will have a opportunity to enjoy the nearby restaurants during lunch breaks or can use the fridge and microwave provided in the classroom.
Second Training Location
The North Edmonton classroom opened its doors in the winter of 2022.  It proudly serves St. Albert, Central McDougall, MCCauley, Edmonton Northlands, Glenora, Inglewood and Woodcroft. It is situated just south of Kingsway and Yellowhead Highway which provide easy vehicle and transportation access. For people attending the class via car, the location offers plenty of free on-site parking. The classroom is large, newly renovated and well maintained. Nearby schools include:
Northern Alberta Institute of Technology (NAIT)
NorQuest College Edmonton Campus
MacEwan University
View the map above to find more information about the location or scroll down to learn how to enroll into a emergency first aid course in Edmonton with St Mark James Training.
Enrolment
Enrolment is very quick and hassle-free. A complete list of classes, schedules, and rates can be found on the Edmonton First Aid website. Once you've chosen your desired course, just fill out the application form on the site to complete your enrolment.
E-mails, telephone calls, and walk-ins are also highly encouraged by Edmonton First Aid's very welcoming staff.
Classes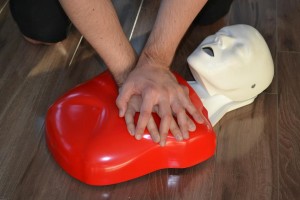 Edmonton First Aid has a variety of comprehensive courses, stand-alone classes, and safety classes. The following is a brief list of the courses available with this provider:
Alberta OH&S approved standard first aid, CPR level "A", "C" or "HCP" and AED (two day course)
Alberta OH&S approved standard childcare first aid, CPR level "B" and AED (two day course)
Alberta OH&S approved emergency first aid, CPR level "A", "C" or "HCP" and AED (one day course)
ILCOR and American Heart Association Consensus approved CPR level "A", "C" or "HCP" and AED courses (half day course)
On-Line WHMIS, MSDS, TDG, H2S Awareness and Fire Safety Training
Alberta Provincially Approved Food Safety Certification
Basic Life Support (BLS)
Advanced Cardiac Life Support (ACLS)
Pediatric Advanced Life Support (PALS)
All standards and rescue techniques meet provincial requirements and / or American Heart Association requirements.
Typical Participants
The typical participants that attend first aid and / or CPR training in Edmonton are (but not limited to):
Oil and Gas Workers
Teachers
Students
Fitness Workers
Security Guards
Police Officers
Fire Fighters
Government workers
Office Employees
Managers
Doctors
Dentists
Physiotherapists
Massage Therapists
Chiropractors
New Parents
Talk to your supervisor or your advisor to determine what is the right class for you.
What Will I Learn?
Participants that enrol in first aid courses in Edmonton will learn about the following rescue techniques:
When and how to contact EMS
How to stay safe during a rescue
How to effectively use bystanders
How to recognize and manage choking victims
How to recognize and manage circulatory, respiratory, environmental and sudden medical emergencies
How to effectively provide CPR for adults, children and infants
How and when to use an Automated External Defibrillator (AED)
These topics and many more will be taught with hands on training and with interactive learning methods to make the class informative and enjoyable.
What Are People Saying about Edmonton First Aid?
I loved the class! I feel prepared for almost any emergency. The teachers was great and he used great examples to show us where to use our newly learned skills – Andrew P.
Private Classes
Private stand-alone CPR, re-certification and first aid classes are available at the Edmonton First Aid training centre or a certified, experienced and knowledgeable instructor can come to your facility. Use the contact information posted above to book or receive a quote for a private first aid and / or CPR course in Edmonton.
Certification
Once a trainee completes an enrolled course, he or she is are awarded a Alberta OH&S approved training certificate that is valid for three years throughout Canada. This certificate meets provincial and federal requirements throughout the country.
Refresher courses for the renewal / re-certification of expiring or near-expiry certificates are available at various training locations throughout Edmonton, Alberta. This
Rates
Courses are offered at the lowest rates in the area. Rates are inclusive of taxes, certificates, Alberta OH&S registration fees, and use of training manuals and equipment. Trainees don't have to worry about additional expenses.
Emergency First Aid, CPR, and AED Certification – 89.99
Standard First Aid, CPR and AED Certification – 132.99
Standard Childcare First Aid, CPR and AED Certification – 134.99
Full refunds are given to trainees who drop out of the training courses, as long as a 72-hour notice is given beforehand.
Get a head start on your training below!
Did You Know?
Call your local emergency number or bring victim to the hospital if there is:
Vision and speech changes
Angina (chest pain)
Shortness of breath/difficulty breathing
Convulsions
Vomiting
Loss of consciousness
High fever
Stiff neck
Partial or complete paralysis
Enrol in a training course with Edmonton First Aid today!