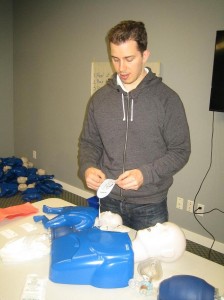 Red Deer First Aid is the most popular provider of Alberta OH&S emergency first aid certification and re-certification programs in Alberta. A large number of classes with flexible scheduling are offered at the most competitive rates. Certification provided from Red Deer First Aid will surely meet any requirements for work or school that a student may need. Participants that want to learn basic rescue skills that including CPR, choking rescues, AED usage and respiratory and circulatory emergencies should enrol in a Alberta OH&S emergency first aid course in Red Deer.  This is a one day course that needs 8 hours to complete.Advanced courses such as EMT, EMR and first responder training are also available. Alberta required food safety certification classes are also provided. Participants looking to boost their resume's can register for on-line safety training that includes WHMIS, MSDS, fire safety, H2S awareness, fall protection and TDG training.     To register for any first aid, safety or food safety course in Red Deer use the link provided above or the contact information below for more information.
Enrolment and registration in Red Deer First Aid
Use the following contact registration to register for a course with this popular and experienced provider in Red Deer.
Customer service staff are available from 8am to 7pm to provide assistance with registration or to help answer any questions.
Course Prices at Red Deer First Aid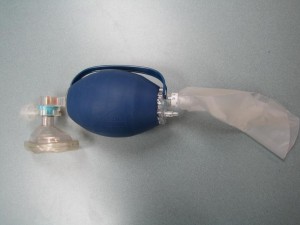 All certification programs are offered at the cheapest rates in Alberta. Rates are inclusive of taxes, certificates, Alberta OH&S registration fees, and use of training manuals and equipment. Trainees who drop out or are unable to complete their enrolled course are entitled to a full refund, provided a 72-hour notice is given.
Available Courses
Comprehensive first aid and CPR courses include:
Alberta OH&S approved standard first aid, CPR and AED
Alberta OH&S approved emergency first aid, CPR and AED
Alberta OH&S approved standard childcare first aid, CPR and AED
Participants looking for CPR and AED training can enrol in:
Alberta OH&S Certification
Trainees who are able to pass their enrolled course are awarded a Alberta OH&S training certificate, valid for three years throughout Canada. Refresher courses for the renewal / re-certification of expiring or near-expiry certificates are available for participants that meet the required prerequisites.
Instructors and Facilities
All emergency first aid courses in Red Deer are taught by Alberta OH&S certified instructors – all who are the best in their given fields of expertise. Classes are held in training facilities complete with the latest training equipment and spacious and well-maintained classrooms. Facilities are easily accessible by public and private transportation, with free parking and restaurants within walking distance.
Did You Know?
Treating fever in children
For temperature lower than 102 F, no specific treatment is needed, just fluids and rest.
For temperature higher than 102 F and lower than 105 F, pediatric anti-pyretics can be given as prescribed by a doctor, a bath or sponge bath in lukewarm water (DO NOT use cold or ice baths).
DO NOT give children younger than 18 years old aspirin.
Learn more about providing care for children by taking childcare, standard and emergency first aid training in Red Deer, Alberta.