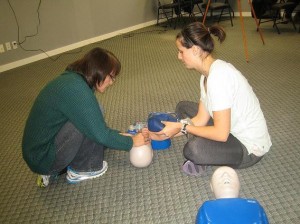 Individuals that need first aid and / or CPR certification for academic or workplace purposes can get certified with Windsor First Aid. This provider is the largest and most popular St Mark James training provider in Windsor, Ontario.  All classes are taught by St Mark James certified instructors and trainees who are able to complete and pass a course are awarded a St Mark James training certificate that is valid nationally for three years. A variety of courses are available with this provider including safety training, food handling, standard, emergency and childcare first aid. All first aid programs include training and certification in CPR and in the use of automated external defibrillators (AED). Learn to save a life and be prepared for almost any emergency by taking a one-day, basic first aid course, such as emergency first aid. This course takes approximately 8 hours to complete and include certification in either CPR level "A", "C" or "HCP" and AED. To register for a St Mark James standard or emergency first aid course in Windsor, Ontario use the contact information posted below or the link above.
How To Register for a Course in Windsor First Aid?
To register for a St Mark James emergency first aid and CPR course in Windsor, Ontario use the following contact details:
For On-Line Registration: http://firstaidwindsor.ca/first-aid-training/emergency-first-aid/
Email Address: info@firstaidcourses.ca
Course Syllabus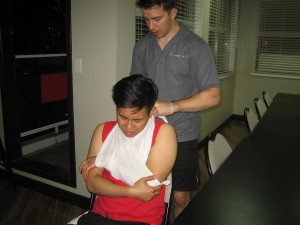 Windsor First Aid offers trainees full courses, stand-alone classes, private classes, and refresher courses. Trainees are offered three levels for training: A, C, and HCP. Stand-alone first aid or CPR/AED classes are also available. First aid classes cover a number of different first aid skill and emergency situations – ranging from bleeding to burn injuries. Windsor First Aid will make sure that its trainee's skills are the most competitive in the area.
A sample course outline can be seen below.
CPR for adolescent and adult victims
AED training for adolescent and adult patients
Cardiovascular and Respiratory system Crisis Detection and Care
Sudden Health and Environmental Crisis situations
Private classes are usually offered to big groups of trainees such as companies.
St Mark James Certification
Trainees at Windsor First Aid receive a St Mark James training certificate valid for three years upon completion of a training course. This certificate will surely satisfy any work or school-related requirement. Refresher courses are available twice a week for the renewal of expiring or near expiry  standard first aid certificates.
Enrolment Rates at Windsor First Aid
Windsor First Aid aims to provide the most competitive rates in the Windsor area. All prices include taxes, St Mark James certificate expenses, and training manuals. Tranees don't have to worry about additional expenses.
Full refunds are given to trainees who do not finish their enrolled course and provide a 72-hour notice before dropping out.
Enrolment
To register for the course that you want, just visit the Windsor First Aid website, pick out a training course and fill up the application form on the same site. Trainees may also complete their registration through e-mail, telephone call, or walk-in during business hours in any of the training centres.
Start your training with the free lesson below.
Did You Know?
Call your local emergency number or bring the child immediately to the hospital if he or she is/has:
Unresponsive
Limp
Difficulty breathing
Vomiting
A headache and stiff neck
Seizures
Blue lips and/or skin
Learn more about chest injuries in a emergency first aid training class at Windsor First Aid. Enrol today!