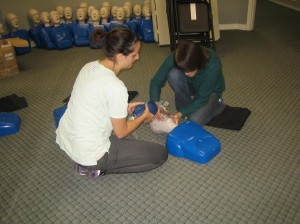 Individuals that need St Mark James certification and training in Ontario can register with Mississauga First Aid. This St Mark James training provider offers a variety of courses including childcare, emergency and standard first aid. All of these training programs include CPR and AED certification and provide certificates that are valid for 3 years.  Registration can be completed on-line, via email or telephone. Certification programs are available throughout the week, with popular classes offered during evenings and weekends. Because of the demand for certification, looking for a credible training service provider is certainly a daunting task. But with Mississauga First Aid, you get high quality training with St Mark James certified instructors for the lowest rates in the area. The most popular, one-day, 8 hour course is emergency first aid and it is available multiple times per week and include certification in CPR and AED. To register for standard, childcare or emergency first aid training in Mississauga use the link above to be directed to the website or use the contact details posted below.
How To Register for a Emergency First Aid Course in Mississauga, Ontario
To register for a course with this St Mark James training provider use the following details:
What Will I Learn in Emergency First Aid?
Customers that register for Ontario WSIB approved emergency first aid training in Mississauga with this training provider will learn to recognize and manage the following emergencies:
Unconscious non-breathing victims
Unconscious breathing victims
Obstructed airway conscious and unconscious victim
Shock
Cardiac Arrest
Ventricular Fibrillation
Heart Attacks
Angina
T.I.A's
Wounds (Internal and External)
Allergic Reactions
Anaphylaxis
Asthma
Hyperventilation
Poisonings
Seizures
Learn about these topics and more with hands-on training and knowledgeable instructors.
https://www.youtube.com/watch?v=Dsvtzwp4nG8&ab_channel=NucleusMedicalMedia
Certification
Trainees who are able to complete a course are awarded a St Mark James training certificate for first aid, CPR, and AED, valid throughout Canada for three years for whatever purpose the trainee needs the certification for. Refresher courses for the renewal of expiring certificates are available to participants that meet St Mark James prerequisites for re-cert training.
Certificates are available in wallet sizes and wall mount sizes.
Rates at Mississauga First Aid
Mississauga First Aid has most reasonable prices in the Mississauga area. Enrolment fees include everything – taxes, certificates, St Mark James registration fees, and use of training manuals and equipment.
Trainees who drop out of their enrolled courses are entitled to a full refund, provided a 72-hour notice is given.
Instructors and Facilities
All classes are overseen and taught by Re d Cross certified professionals so you're sure to the get the best quality training. The training centres are decked out in the latest training equipment, with spacious and well-maintained classrooms as well. All centers are within walking distance to public transportation and free parking.
Other Services Available on Mississauga First Aid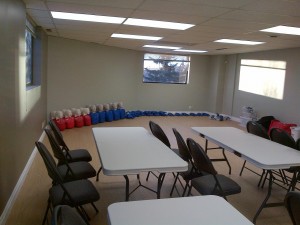 This provider offers a number of other services including:
AED and advanced rescue equipment sales
Basic first aid supplies and re-stocking
Emergency response and facility audits
First aid attendant rentals
Equipment rentals
Private Courses
On-line safety training
Did You Know?
Danger signs of fever in children
Fever is a symptom of an ongoing infection that the body is fighting. It often subsides in a few hours or a few days, depending on the immune system of the child. However, if the child experiences any of these symptoms, be sure to bring him or her to a doctor.
Fever in infants younger than 3 months of 100.4 F or higher
Fever in infants 3-6 months of 101 F or higher OR has been feverish for more than a day
Fever in infants 6-12 months of 103 F or higher OR has been feverish for more than a day
Fever in child 1 to 2 years old for more than a day
Fever of 104 F or higher
The soft part of the head in an infant is bulging
Vomiting and diarrhea
Dehydration
Seizures
Rash
Enrol into an emergency first aid and CPR course with the help of Mississauga First Aid to obtain the best training at the lowest rates.