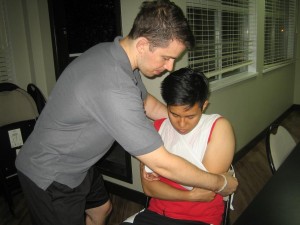 For the past five years, Vancouver First Aid has become the front runner in first aid, cardiopulmonary resuscitation (CPR), and automated external defibrillation (AED) training in Vancouver and throughout the Lower mainland.  Popular courses include an occupational first aid level 1 equivalent known as WEFA (workplace emergency first aid).  All first aid classes include training and certification in CPR. Level "A", "C" or "HCP" can be partnered with a variety of training programs. Low prices, a large selection of programs, incredible trainers, and well-maintained training centers make Vancouver First Aid the best training provider of emergency first aid courses in the Lower Mainland.
Contacting Vancouver First Aid
To register for a course with this provider use the following contact details:
Email: info@vancouverfirstaid.ca / vanfirstaid@gmail.com
Telephone: 778-709-9180
Website: http://vancouverfirstaid.ca
Training Locations
This provider boasts several training facilities throughout Vancouver, Lower Mainland. Training locations are located:
In Yaletown / Downtown Vancouver
East Vancouver – Along Kingsway
In Surrey-Newton Business Centre
Whalley – Whalley Business Centre
This popular St Mark James training affiliate offers emergency and workplace emergency first aid (occupational first aid level 1 equivalent) at all of the above-mentioned locations.
Enrolment and Registration
Trainees can view the complete list of offered courses on the Vancouver First Aid website, along with an online application form to complete their registration. The very friendly and accommodating staff at Vancouver First Aid encourages trainees to e-mail, call, or walk in during business hours at the training centers to enrol as well.
Emergency First Aid Course Request in Vancouver
Reasons to enrol at Vancouver First Aid
The lowest costs are offered for all certification and renewal programs. Other training service providers can't compete.
Rates are inclusive of taxes, certificates, St Mark James registration fees, training manuals, and use of training equipment.
Full refunds are given to trainees with 72-hour notices prior to dropping out of a training course.
Scheduling is very flexible. Vancouver First Aid offers all classes throughout the week, including evenings and weekends for popular classes.
Once a trainee completes a course, he or she is awarded a St Mark James training certificate, valid for three years all throughout Canada.
Vancouver First Aid has numerous training facilities throughout Vancouver. These locations are easily accessible by both public and private transportation.
Classrooms are well-maintained and equipped with the latest technology in first aid, CPR, and AED training for the best learning experience possible.
Participants can enrol in various re-certification courses available at all locations multiple times per week.
Private classes are usually offered to big groups of trainees such as companies or trainees with scheduling problems and cannot enrol in any of the regular schedules.
Vancouver First Aid never cancels scheduled lessons.
Offered Classes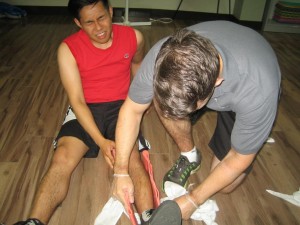 Full training courses are available in three levels, all inclusive of basic first aid and AED training. AEDs are machines that are able to detect heart rhythms and give needed shock to the heart.
First aid classes cover a comprehensive list of first aid skills for a variety of emergency situations. Trainees will learn how to manage burn, bleeding, and fall injuries among others. A large portion of the total class hours is spent honing these skills and ability to recognize and react to emergency situations.
Get a head start on your training today!
Did You Know?
Managing first degree burns
First-degree burns involve only the top layer of skin called the epidermis. This can be caused by hot water and sunburn.
Run cool water of the affected area to help with pain. If running water isn't available, use a compress.
Cover the area with sterile gauze or a clean piece of cloth. DO NOT apply anything to the burn.
You may give the victim over-the-counter pain medication.
Register for first aid and CPR education with Vancouver First Aid to receive the highest quality St Mark James lessons at the most competitive costs. For additional details, visit the Vancouver First Aid Web site right now!
Check Out This Provider in the Local News!