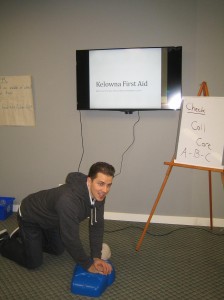 Kelowna First Aid is the most popular training service provider of first aid, cardiopulmonary resuscitation (CPR), and automated external defibrillation (AED) classes in British Columbia. Kelowna First Aid offers the largest selection of classes at the lowest costs in the area. Trainees who need emergency first aid and CPR certification in Kelowna with St Mark James can easily get it with this Canadian training affiliate as it offers the course multiple times per week. A popular one-day course is workplace emergency first aid (WEFA) which is a St Mark James program that is equivalent to occupational first aid level 1 (OFA level 1).  All first aid programs include training and certification in CPR and the usage of AED's. To register for a emergency first aid course in Kelowna use the link posted above or the contact information below.
Registration and Contact Details about Kelowna First Aid
To register for workplace emergency first aid (WEFA) or basic emergency first aid contact this provider using the following information.
Training Location:  1634 Harvey Ave, Kelowna, B.C. V1Y 6G2
Email Address: info@firstaidcourses.ca
Telephone: +1 250-277-1944
Course Prices
The following is a price list of popular courses with this provider
Workplace emergency first aid (WEFA) – OFA level 1 Equivalent – 74.99
Emergency first aid – 84.99
Standard first aid – 144.99
About Kelowna First Aid
Kelowna First Aid boasts the largest selection of training courses in British Columbia. Full training courses, stand-alone classes, private classes, and refresher courses are all available for enrolment.
Full training courses are available in three levels, all inclusive of AED and first aid training.
Classes are focused on knowledge and skill development, especially Kelowna First Aid's basic first aid classes. A large number of class hours is spent honing different first aid skills.
Stand-alone classes on CPR/AED and first aid are available to trainees who do not want to undergo the full training course with both.
Private classes are also available to groups of almost any size.
Refresher courses are available twice a week and private classes are offered to big or small groups of trainees.
Rates are easily the lowest in the area. They include everything – taxes, certificates, St Mark James registration fees, training manuals, and other equipment needed. Trainees don't have to worry about additional expenses.
Full refunds are given to trainees who drop out of the course, provided a 72-hour is given beforehand.
Enrolment is hassle-free with Kelowna First Aid. Just choose your desired course on the Kelowna First Aid homepage and fill out the application form. E-mails, telephone calls, and walk-ins are also highly encouraged by the staff.
Once a trainee completes a course, he or she is awarded a St Mark James certificate, valid for three years throughout Canada.
All classes are taught by St Mark James certified trainers, and are taught in high-end training centres with the latest training equipment.
A number of training centres are available throughout Kelowna, within walking distance to public transportation and free parking. Restaurants and shops are also available nearby.
Get a head start on your training today!
Did You Know?
Dizziness
Assist person to a comfortable position, either sitting or lying down
Avoid sudden changes in position and bright light
Offer a drink of water or fluids
Seek medical help with dizziness does not subside as victim might be experiencing dehydration or an underlying condition
Learn more at Kelowna First Aid. Enrol today!
But why do we need to study first aid in the first place? Look at the video below to get an idea why.