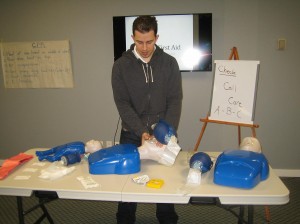 Calgary First Aid is the leading training service provider for St Mark James emergency first aid certification classes in Alberta, offering classes at the lowest rates for the highest quality in the area. They offer the largest selection of training courses, stand-alone classes, private classes, and refresher courses – all taught by St Mark James certified instructors. Trainees are assured of the best training in emergency first aid, CPR and AED in Calgary, Alberta. To register for a course use the contact information provided just below.
How To Contact / Register
To register for a emergency or standard first aid course that meets workplace requirements use the following contact details:
Telephone: 587-774-5317
Address for SE Calgary: Suite 410, 8989 Macleod Trail SE, Calgary
Address for SW Calgary: Suite 102, 750 – 11th Street SW, Calgary, AB T2P 3N7
Email Address: info@firstaidcalgary.ca
On-Line Registration Address: http://firstaidcalgary.ca/emergency-first-aid-courses/
Location Information for Emergency First Aid Training in Calgary
Check out the following map for our SE Calgary location for details about directions and nearby amenities.
Free parking, neighbouring restaurants and great access to public transit and C-train make this a comfortably and conveniently located training location for St Mark James programs.
Course Cost
The cost of Emergency First Aid and CPR level "A", "C" or "HCP" training in Calgary, Alberta is 89.99. Included in the course cost is a take home manual and all applicable taxes.
About Calgary First Aid
Calgary First Aid offers the largest selection of classes in Alberta. CPR training courses are available in three levels, with all levels inclusive of AED.
All classes are offered at various schedules throughout the week, with popular classes held during the evenings and weekends as well.
Calgary First Aid course rates as the lowest in Alberta. Initial enrolment fees are inclusive of taxes, certificates, St Mark James registration fees, and use of training manuals and equipment.
Trainees who drop out of a course are entitled to a full refund of the enrolment fee, provided a 72-hour notice was given beforehand.
Once a trainee completes a course, he or she is awarded a St Mark James certificate for first aid, CPR, and AED training, valid for three years throughout Canada.
Instructors at Calgary First Aid are also certified by St Mark James. They are also known for being very friendly and accommodating.
Training centres are complete with high-end training equipment and spacious classrooms for the best learning experience.
Training Courses at Calgary First Aid
Calgary First Aid offers prospective trainees full training courses, stand-alone classes, private classes, and refresher courses. CPR/AED training courses are available in three levels. All levels include AED and first aid training. AEDs are machines that are able to detect heart rhythms and apply needed shock to restart the heart.
If a trainee does not want to undergo the full training course, he or she has the option of enrolling in stand-alone classes for either CPR/AED or first aid only. First aid classes cover a lot of ground – from basic first aid skills such as bandaging and choking rescue manoeuvres to bleeding management and wound care.
Private classes are offered to big groups of trainees or companies, but trainees with scheduling problems can opt to enrol in a private class. Refresher courses are available twice a week.
Start your training today with the short lesson below!
Did You Know?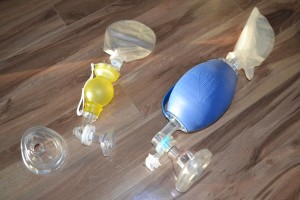 Dehydration and diarrhea: when to seek medical help
If the victim is a child or infant
If victim needs anti-diarrheal medication
If victim is suspected to have traveler's diarrhea
If victim was taking an anti-biotic
If stool was blood or mucus
If diarrhea is accompanied by stomach pain and constipation
If victim is feverish
Severe and persistent diarrhea
Learn more in first aid classes with Calgary First Aid!