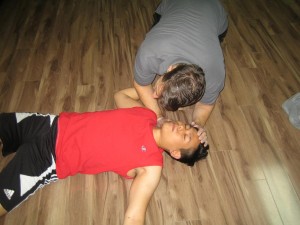 The largest and most popular provider of St Mark James, safety and food safety certification programs in Manitoba is Winnipeg First Aid. All first aid, cardiopulmonary resuscitation (CPR), and automated external defibrillation (AED) classes are available at various schedules throughout the week. For the past five years, trainees have been coming to Winnipeg First Aid emergency first aid courses, stand-alone CPR classes, various private classes, and refresher / re-certification courses. No other training service provider can compare with the low rates and comfortable training locations offered by this St Mark James training provider. To register for emergency first aid training in Winnipeg use the contact details posted below.
Register for St Mark James Certification
To register for a standard, childcare or emergency first aid program, or any stand-alone CPR/AED course, use the information below.
Website: http://firstaidwinnipeg.ca
Telephone Number: 204-272-8720
Email Address: info@firstaidwinnipeg.ca
Training Center Address: 222 Osborne St, Unit 20, R3L1Z3, Winnipeg
Training Location for Winnipeg First Aid
For more information about the Winnipeg First Aid main training center, check out the map posted below. Plenty of amenities are located within walking distance such as free parking and restaurants.

View Larger Map
Why chose Winnipeg First Aid?
Lowest Course Prices
All courses are offered at the cheapest rates in Manitoba. Rates are inclusive of taxes, certificates, St Mark James registration fees, and use of training manuals and equipment. Trainees can rest assured that there will be no additional expenses. Other training service providers can't beat the enrolment fees at Winnipeg First Aid.
Standard First Aid – 108.99
Emergency First Aid – 73.99
Full refunds are given to trainees who provide 72-hour notices before dropping out of an enrolled course.
High-quality training programs
St Mark James certified instructors teach all classes at Winnipeg First Aid. The classrooms are equipped with the latest training equipment for first aid, CPR, and AED. Trainees have a great learning environment in all the training centers.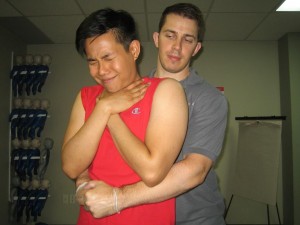 Stand-alone first aid or CPR/AED courses are also available to trainees who don't want to enrol in a the full course. First aid classes focus largely on skill development and recognizing and reaction to emergency situations.
Big groups of trainees can opt for a private class. These classes can be offered at the Winnipeg training facility or they can come to you.
St Mark James Certification
Once trainees complete a course, they are awarded a St Mark James training certificate, valid for three years throughout Canada. Refresher courses are available  for renewal / re-certification of expiring certificates.
Get started on your training now with the lesson below.
Did You Know?
First aid for second-degree burns
Second-degree burns extend through two layers of skin (epidermis and dermis).
Immerse the affected area in cool water (NOT cold/icy water, this can cause further tissue damage) for 10-15 minutes. Cold compresses will do if water is not available.
DO NOT pop any blisters that have formed. Popping a blister can cause infection.
Protect burn by covering area with sterile gauze or dressing.
Burns cause rapid fluid loss and can lead to shock. To prevent shock, assist victim to lie down, with lower extremities elevated (if possible, above heart level). Cover victim with a blanket or clothing.
Chose a training course and enrol today!