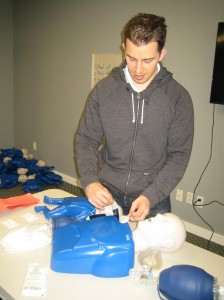 Hamilton First Aid has the largest selection of St Mark James training courses in Ontario, with all courses offered at the lowest rates in the area. Hamilton First Aid is dedicated to providing trainees with high quality classes taught by St Mark James certified instructors. Certification that students receive will meet work and school requirements and are valid and current for 3 years. Students that hold the required prerequisites can also attend re-certification courses to renew expiring awards. The most popular basic course offered with this St Mark James training provider is emergency first aid. This course includes CPR level "A", "C" or "HCP" certification as well as training and certification in the use of automated external defibrillators (AED). Participants will learn basic rescue skills include techniques on how to manage respiratory and circulatory emergencies. To enrol in a St Mark James emergency first aid course in Hamilton, Ontario use the link above to be directed to the website or use the contact information provided below.
Enrolment and Registration on Hamilton First Aid
Trainees can view the complete list of offered courses on the Hamilton First Aid website, along with an on-line application form to complete their registration. The very friendly and accommodating staff at Hamilton First Aid encourages trainees to e-mail, call, or walk-in during business hours at the training centres to enrol as well.
Reasons to enrol at Hamilton First Aid
The lowest costs are offered for all certification and renewal / re-certification programs. Other training service providers can't compete.
Rates are inclusive taxes, certificates, St Mark James registration fees, training manuals, and use of training equipment.
Full refunds are given to trainees with 72-hour notices prior to dropping out of a training course.
Scheduling is very flexible. Hamilton First Aid offers all classes throughout the week, including evenings and weekends for popular classes.
Once a trainee completes a course, he or she is awarded a St Mark James training certificate, valid for three years all throughout Canada.
Hamilton First Aid has numerous training facilities throughout Hamilton These locations are easily accessible by both public and private transportation.
Classrooms are well-maintained and equipped with the latest technology in first aid, CPR, and AED training for the best learning experience possible.
Refresher courses are offered twice a week for renewal / re-certification of expiring certification.
Private classes are usually offered to big groups of trainees such as companies or trainees with scheduling problems and cannot enrol in any of the regular schedules.
Hamilton First Aid never cancels scheduled lessons.
What Will I Learn in a Emergency First Aid Course?
Participants that enrol in this one-day Ontario WSIB approved first aid, CPR and AED course will learn about the following topics:
American Heart Association and ILCOR consensus approved cardiopulmonary resuscitation
How to apply an automated external defibrillator (AED)
How to recognize and manage circulatory emergencies that include wounds, heart attacks, cardiac arrest, angina and transient ischemic attacks
How to recognize and manage breathing / respiratory emergencies that include shock, asthma, allergic reactions, obstructed airways and hyperventilation.
How to recognize and manage sudden medical emergencies such as seizures and poisonings.
Participants enrolled in this course will learn the skills and knowledge behind these emergencies and injuries in a comfortable classroom environment using a variety of learning activities.
Offered Classes at Hamilton First Aid
Ontario WSIB approved St Mark James combined first aid and CPR training courses are available in either standard, emergency or childcare format. All levels are inclusive of CPR and AED training. 
Emergency first aid classes in Hamilton cover a comprehensive list of first aid skills for a variety of emergency situations. Trainees will learn how to manage burn, bleeding, and fall injuries among others. A large portion of the total class hours is spent honing these skills and ability to recognize and react to emergency situations.
Other Available Courses:
WHMIS
TDG
Confined Space
H2S Awareness
Fire Safety
Fire Extinguisher
Oxygen Administration
Basic Life Support
Advanced Cardiac Life Support
Babysitting Training
Pet First Aid
Food Safety Certification
These courses are available in either a on-line format or in a public / private course.
Did You Know?
Rectal temperatures in children
To measure core body temperature accurately, the best route is rectally, especially in children younger than 4 months old. Use a rectal or oral thermometer, and lubricate one inch of the slender tip. Have somebody with you to keep your child calm and to hold him still as you insert the thermometer. Keep the thermometer in for 1 minute or as long as the manufacturer's instructions state. If the temperature is 100.4 and higher, take your child to a paediatrician. You can immediately manage the fever with a sponge bath in lukewarm water. Do not use cold or ice baths.
Learn more about taking temperatures and various other serious injuries by enrolling in emergency first aid courses in Hamilton, Ontario