Fact Checked
Overview
Consuming too much alcohol may sound like fun, but it can be lethal. Drinking too much alcohol that eventually makes you blackout is one symptom of alcohol poisoning, a deadly intake of alcohol that's actually easy to treat if it's discovered in time.
There's an old recommendation that one alcoholic drink every hour is harmless, but that suggestion isn't definitive. Alcohol doesn't absorb at precisely the same rate all the time, in spite of whether you have an empty stomach or not. Even after you discontinue drinking, the alcohol level in your blood will usually keep increasing.
Symptoms of Alcohol Poisoning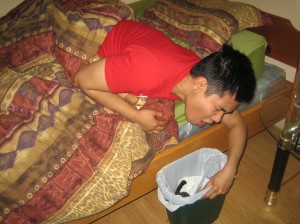 You will see signs on this list that you've either seen in others or went through yourself when consuming alcohol. An intoxicated person who's bewildered and complaining of sickness is at risk. It's not sufficient to basically drive them home and make sure they enter the front door. A person who is sober will need to stay close by to see if they are okay.
Phone the emergency services right away if an intoxicated individual is showing any of the following signs:
Convulsions
Breathing which is irregular
Pale skin
Clammy skin
Passed out or unconscious
Treatment For Alcohol Poisoning
There are tons of ways or myths related to the treatment of alcohol intoxication, but there isn't a definite cure. The only approach to sober up is with time. phoning the emergency services or driving the intoxicated individual to the hospital is the only secure way to take care of alcohol poisoning.
The most vital first aid for individuals experiencing alcohol poisoning – after phoning for an ambulance – is to keep the individual protected until medical assistance arrives. The most vital issue is to make sure the individual doesn't choke in their own vomit.
Placing Them In The Recovery Position
While the recovery position is usually the standard treatment for unresponsive casualties, there isn't a lot of research to back up its purpose. The idea is easy: Place the unconscious casualty their side just in case they start vomiting. By doing that, they won't be able to choke on their own vomit which can obstruct the airway.
If you are going to place the person to let the airway drain, you have to do it all the way. It's not enough to simply shift the casualty's head to the side. You have to, in fact, turn their body so anything that foams from the stomach can't just obstruct the airway.
Related Video On Alcohol Poisoning