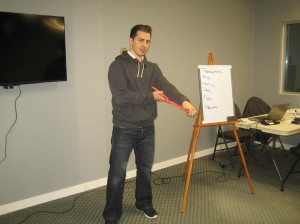 Regina First Aid has been providing the best first aid, cardiopulmonary resuscitation (CPR), automated external defibrillation (AED), and food safety instructional classes for the past five years in Regina. Because of the affordable rates of all classes, trainees have consistently been choosing to enrol in Regina First Aid. All classes are taught by the best instructors in the area in high-end training centres so trainees are assured of the best training possible. The most popular courses offered through this provider is emergency and standard first aid. Participants looking for workplace approved certification should enrol in standard first aid training in Regina. To enrol in either emergency or standard first aid courses in Regina use the contact details on this page to enrol today.
Contact Details about Regina First Aid
To register for a St Mark James first aid and CPR course in Regina use the following details:
Website: http://www.firstaidregina.ca/first-aid-and-cpr-courses/
Telephone: 1-306-988-4432
Email: info@firstaidregina.ca / info@firstaidcourses.ca
Regina First Aid has the widest range of classes to choose from.
A variety of full courses, stand-alone classes, and extra classes are available to trainees for enrolment. All classes are available in various schedules throughout the week, with certain classes available during the evenings and weekends.
CPR/AED full training courses come in different levels, all inclusive of AED and first aid training. First aid classes cover a comprehensive list of topics, focusing on both knowledge and skill development. A large portion of class hours for CPR/AED and first aid training are spent honing different skills and ability to recognize emergency situations.
A trainee who is able to pass the course is awarded a St Mark James training certificate, valid for three years throughout Canada. Certification with Regina First Aid will surely meet any requirements the trainee needs.
Extra classes are also available.
Trainees who do not want to undergo the full training course have the option of enrolling in stand-alone CPR/AED or first aid classes. Private classes are usually taken by big groups and companies but trainees with scheduling problems can also opt to enrol in them. Refresher courses are offered twice weekly.
Other training service providers can't beat the course rates at Regina First Aid.
Regina offers the cheapest rates for all of its classes. Rates are inclusive of taxes, certificates, St Mark James registration fees, and use of training manuals and equipment. Trainees are assured of no extra expenses during training.
If a trainee is unable to complete their enrolled course, they are entitled to a full refund of the fees, provided a 72-hour notice is given.
All classes are taught by St Mark James certified instructors in high-end training facilities.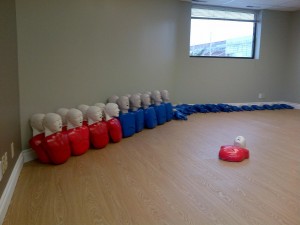 Trainees are taught by the best, St Mark James certified trainers in spacious and well-maintained classrooms throughout Regina. The training centres are outfitted with the latest training equipment in first aid and CPR/AED.
All centres are also easily accessible, within walking distance to public transportation and free parking.
Enrolment is quick and easy.
Visit the Regina First Aid website for a complete list of all offered classes, schedules, and rates. An on-line application form is available on the site. Trainees may also complete their enrolment via e-mail, telephone call or walk-in during business hours in any of the training centres.
Did You Know?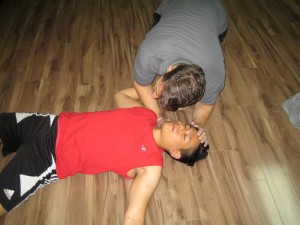 Dehydration and diarrhea: first aid tips
Feed child bland or easily digested foods (BRAT diet) such as bananas, rice, applesauce, and toast.
Feed an adult bland, semi-solid, low-fiber food.
DO NOT give greasy/fatty and spicy food.
To find out more or to sign up for a certification or refresher training course, visit the Regina First Aid Website right now!